Supporting Graduate Students' Academic and Professional Success

Here at the UCR Library, we include digital humanities under a larger umbrella of digital scholarship: using digital tools or methods for your research, teaching, or other scholarly activities. UCR Library is currently working to scale up support for digital scholarship for students and faculty across all colleges and schools at UCR. We'd like to share a few of the ways we're collaborating to expand research support for a variety of digital scholarship tools and methods, as well as ways we are building connections with the UCR community.
[Image Description: Two octopi typing on their laptops and talking on their cell phone.]
Pictured: Collaboration is key! Animation by John Larigakis. Source: https://www.instagram.com/p/B9ng1glAK5r/
Fall Quarter Meetups
One of the ways we build community, connection, and collaboration is through the Digital Scholarship Meetups. These casual events offer a chance to drop in and meet other folks in the UCR community interested in DS topics. Sign up here for one of the upcoming Fall DS Meetups. Join us every other week this Fall to chat and learn about:
Digital Storytelling, October 9 - Creating GIFs, avoiding cultural appropriation and digital blackface. Exploring digital publishing platforms. Using social media platforms for storytelling, including Tumblr, Instagram, TikTok.
Digital Literacy & Pedagogy, October 23 - Writing for a public audience through platforms like Wikipedia. Digital citizenship and engaging in different communities. Navigating open licenses and finding digital images.
Project Management, November 6 - Using project coordination tools like Asana, Trello, Basecamp. Sharing project timelines or coordinating notes with Evernote or Padlet.
Digital Mapping, November 20 - Open tools for creating online maps, such as Story Maps, Mapbox, OpenStreetMaps. Humanitarian response projects using GIS and digital maps.
Collaboration & Social Media, December 4 - Exploring communication and community-building tools like Slack and Discord. Using social media platforms for scholarly publishing and community engagement, such as Twitter. Visual brainstorming with Miro or Google Jamboard.
You might also be interested in the library's Maker Meetups and the GIS Meetups that are open to graduate students!
[Image Description: David Rose from Schitt's Creek passionately stating "I love making connections!"]
Pictured: Start making a connection with Rachel & Krystal, UCR Library's digital scholarship experts!
Get to Know Us!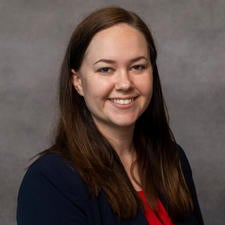 Hi, I'm Rachel Starry, the Digital Scholarship Librarian on the library's Research Services team. I'm available to chat with you about your digital research interests, project ideas, or answer questions about particular software or DS methods. Schedule a consultation with me anytime!
My background is in: Classical & Near Eastern archaeology
I work on: supporting grad students and faculty doing digital research, teaching, and publishing
Ask me about: text analysis, data visualization, networks, web scraping, web publishing, R+Shiny web apps, container gardening
Check out this Digital Humanities project: Torn Apart/Separados
Favorite houseplants: jade plant, spider plant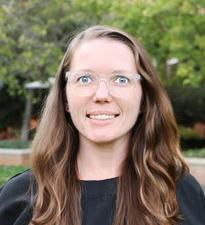 I'm Krystal Boehlert, the Digital Initiatives Specialist in the Digital Library Division at the UCR Library. I'm interested in hearing about your digital projects, digital publishing, and image management questions. Keep an eye out for DS-specific software support coming soon!
My background is in: photography & art history
I work on: supporting the library's digitization and digital scholarship programs
Ask me about: Omeka S, digital asset management, digitization, digital collections, digital preservation, metadata, virtual software, my dachshund
Check out these Digital Humanities projects: Mapping Inequality & 12 Sunsets
Favorite recipe this week: Salted Tahini Chocolate Chip Cookies 
[Image Description: The Thinker sculpture is moving his index finger up and down while a loading icon is spinning at his fingertip.]
Pictured: Library events coming up. Wait for them!
Upcoming Library Events to Check Out
Check out these links to register for upcoming UCR Library workshops:
If you have ideas on how we can support YOU, please get in touch! Contact us at krystal.boehlert@ucr.edu or rachel.starry@ucr.edu. We hope to see you at one of our events this quarter!