Supporting Graduate Students' Academic and Professional Success

Grad Slam 2020
Making your project matter to both other academics and your community is one of the most important professional skills to develop as a graduate student. Grad Slam is an opportunity to practice articulating your research's importance to others in a clear, engaging way while competing for prizes!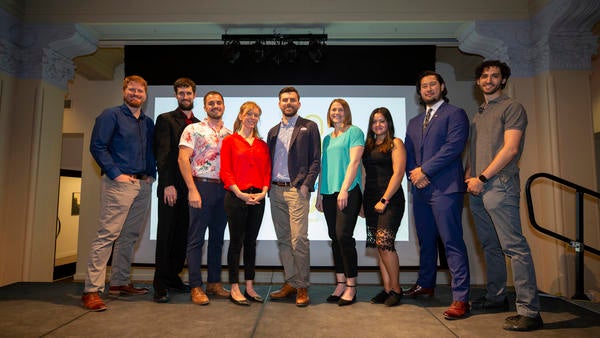 At the UCR Grad Slam Finals on March 3, 2020, Graduate Division awarded a $5,000 fellowship to the best 3-minute talk by a UCR graduate student about their research or creative project. Graduate Division also awarded the following fellowships: $2,000 to the first runner-up, $1,000 to the second runner-up, $1,000 to the audience's choice, $500 to the poster session winner, and $100 to 5 honorable mentions. Financial aid rules apply to all prizes.
GRAND PRIZE WINNER: Eric Johns (Music), "Racing Music/Musicking Race"
FIRST RUNNER UP: Thomas Dugger (Materials Science and Engineering), "PolyAspirin: Targeted Pain Relief"
AUDIENCE CHOICE: Biagio DiSalvo (Plant Pathology), "Biofilm: A Potential New Strategy to Save Our Grapes"
SECOND RUNNER UP: Ethan Castro (Digital Composition - Music), "ResonX - Feeling Sounds Through Vibrations
POSTER WINNER: Daniel White (Chemical and Environmental Engineering), "How Insects Spread a Grapevine Disease"
Honorable Mention: Mark Wiley (Biomedical Sciences), "Doping the Gut: Marijuana's Effect on Obesity & Inflammation"
Honorable Mention: Samiksha Singh (Environmental Sciences), "Microplastics: More Than Just a Buzzword"
Honorable Mention: William Ota (Evolution, Ecology and Organismal Biology), "Ex-Stream-ly Important: How Humans Affect Urban Rivers"
Honorable Mention: Danielle Stevenson (Environmental Toxicology), "Don't Eat Dirty Vegetables: Fungi Reduce Toxic Metals in Food Systems"
Honorable Mention: Courtney Wood (Neuroscience), "More Fries Please: Why Eating Junk Food Makes You Hungrier"
Poster Finalist: Jennifer Humphreys (Earth and Planetary Sciences), "Oxygen in the Earth"
Poster Finalist: Alejandro Navarro (Genetics, Genomics and Bioinformatics), "Senescence Seeker - A Computational Workflow"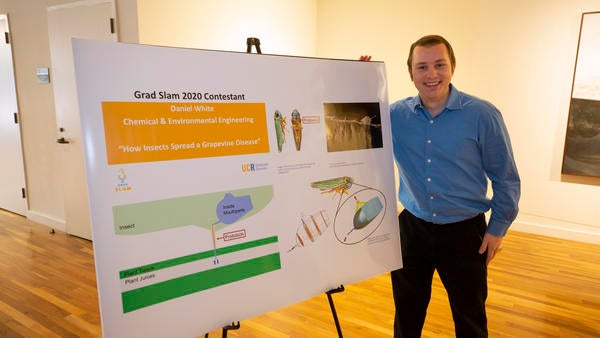 JUDGES
Wajdie Ahmad, Biopharmaceutical Executive, Entrepreneur and Investor
Wajdie Ahmad is a biopharmaceutical executive/investor with over eighteen years of industry experience. Most recently, Mr. Ahmad served as the co-founder and Chief Operating Officer of Bonti from its inception in 2015 until the company was acquired by Allergan in October 2018 for the upfront payment of $195M and subsequent milestone payments. At Bonti, Mr. Ahmad was tasked with building and managing the Finance, HR, Legal, IT, and R&D operations along with the company's clinical programs. In addition, Mr. Ahmad was instrumental in helping to raise over $36M in three structured financing rounds. Prior to Bonti, Mr. Ahmad worked at Allergan for 13 years in various roles with increasing responsibility within the Biologics manufacturing and development groups, focusing on the development, characterization and manufacturing of neurotoxins, including Botox and other biologics programs. Mr. Ahmad received his B.S. in Biology from the University of California, Riverside, and his M.B.A. in Management from the University of California, Irvine.
Dr. Mark Glassy, Cancer Research Scientist and Science Fiction Enthusiast
Dr. Mark Glassy is CEO of Nascent Biologics, Inc. and a visiting scholar in the Translational Neuro-Oncology Department at UC San Diego's Moores Cancer Center. One of Glassy's main contributions to the fight against cancer is the development of pritumumab, a pharmaceutical drug designed to treat brain cancer, which has been submitted to the Food and Drug Administration for review. He has over 170 publications in the scientific and medical literature, is the inventor of several issued patents in the human antibody field, and is Editor-in-Chief of the journal Human Antibodies. Dr. Glassy is also the collector and curator of an astonishing archive of science-fiction related books, art, toys and films - some 100,000 items in all. He earned his PhD in biochemistry from UCR in 1978, and is on the advisory board for the UCR School of Medicine.
Dr. Christine Mata, UCR Dean of Students
Dr. Christina Mata joined UCR as the Associate Vice Chancellor for Student Affairs and Dean of Students effective August 1, 2019. She previously served as the Interim Dean of Students at Humboldt State University. Prior to that, she held a number of student affairs leadership positions at Humboldt State and UCLA. Dr. Mata holds a PhD in Education with a focus on Higher Education and Organizational Change from UCLA. Throughout her career, she has focused on creating transformative educational experiences that lead to student success. Dr. Mata is also involved nationally and serves on the editorial board of The Journal Committed to Social Change on Race and Ethnicity.
Deborah Netburn, Los Angeles Times Reporter
Deborah Netburn is a features writer at the Los Angeles Times. Endlessly curious, she's covered a wide variety of topics since starting at the paper in 2006, including entertainment, home and garden, national news, technology and science. She's hung out with Tibetan monks in Pacific Palisades, seen seahorses at the bottom of Alamitos Bay, and spent time with the working witches of Los Angeles. She earned a Bachelor of Arts in Religious Studies from Wesleyan University in 1999.
Elio Palacios, Jr., Riverside Attorney and Community Activist
Elio Palacios, Jr., a graduate of UC Davis School of Law, is an attorney practicing in Inland Southern California in the areas of business, corporate and commercial transactions, and litigation. He is past president of the Board of Directors of the Inlandia Institute, a non-profit organization devoted to recognizing, supporting, and expanding regional literary activity in all its forms. He also served for eight years on the Riverside Metropolitan Museum board, where he was instrumental in the formation of the Harada House Foundation, and served on the City of Riverside Code of Ethics Review Committee.
Continuing this year:
Participation Incentives for Humanities-Related Research
The Center for Ideas and Society is offering a $50 gift card to graduate students with research in or related to the humanities who: 1) attended an orientation; 2) participated in a preparation public speaking workshop; and 3) completed a preliminary round of competition.
UCR Palm Desert Exhibition
Grad Slam Finalists and Semi-Finalists will eligible to compete for a $500 audience choice award at the Grad Slam Palm Desert Exhibition on April 7, 2020.
Here is an overview of the different facets of Grad Slam from when & where, to eligibility, support, and prizes. Click on the category you are interested in.